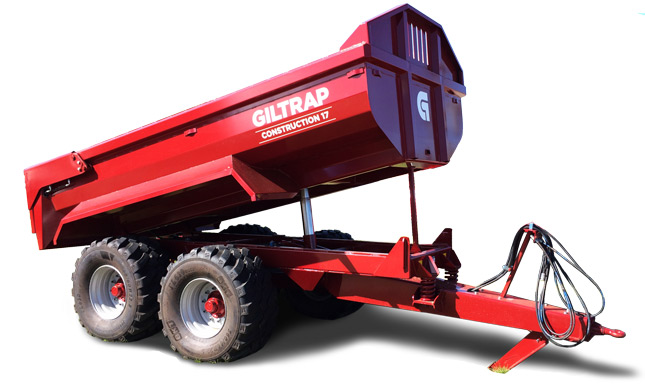 Key Features

• Heavy duty construction
• Large cubic capacity
• 6mm Hardox steel body
• Sprung drawbar
• 25 tonne rated swivel towing eye
• 4-way pivot to prevent side-loading damage
• Hydraulic brakes (front axles)
• Mudguards
• Hydraulic lift high-clearance tail door
• Hydraulic jack stand
• Bushed tandem axles
• Maintenance safety stay
• LED lights
• Overall Length 6.260 m
• Overall Width 2.735 m
• Overall Height 2.124 m
Giltrap Construction Series CS 17 Trailer
Designed specifically for agricultural contracting, heavy construction and earthworks. The CS17 provides a cost effective solution and is a serious performer in soft or difficult terrain where high productivity is a must. The high volume Hardox rock body, drawbar suspension and tough construction will handle the most relentless jobs.
Key Features

V shaped chassis
• High penetration and laceration: ideal for the destruction of large volumes of plant residue.
• Burial and good distribution of plants in the topsoil: optimization of decomposition.
• Levelling: development of regrowth that contributes to nitrate consumption.
Simple efficient design
• Levelling: wheels in the centre of the machine
• Compensating cylinder = load transfer.
• Mechanical or hydraulic boom direction in option.
A compensation actuator on the boom with elastomer shock absorber and stop control enables:
• Optimization of load transfer
• Shock absorption without constraints
• Simplified adjustment
• Good chassis support while working
Choice of equipment
• A wide choice of disks is available to adapt to all conditions. Particular attention should be paid to:
• The type of discs: smooth, serrated, alternating
o The size: 610, 660, 710 mm diameter
o thickness: 6, 7 or 8 mm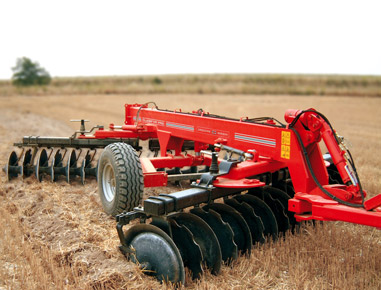 Grégoire Besson CLASS VR PRO
The V disc harrows of the Class'VRL and Class'VR Pro range are designed for tractors from 75 to 150 HP. The range has widths from 2.70 to 5.90 m. With a disc weight of 100Kg the Class'VRL and Class'VR Pro are adapted to small to medium farms...
Machinery for Hire

Note not all photos are of the actual Machinery for hire, they may be of a similar make and model

Giltrap Construction Series CS 17 Trailer
Grégoire Besson CLASS VR PRO